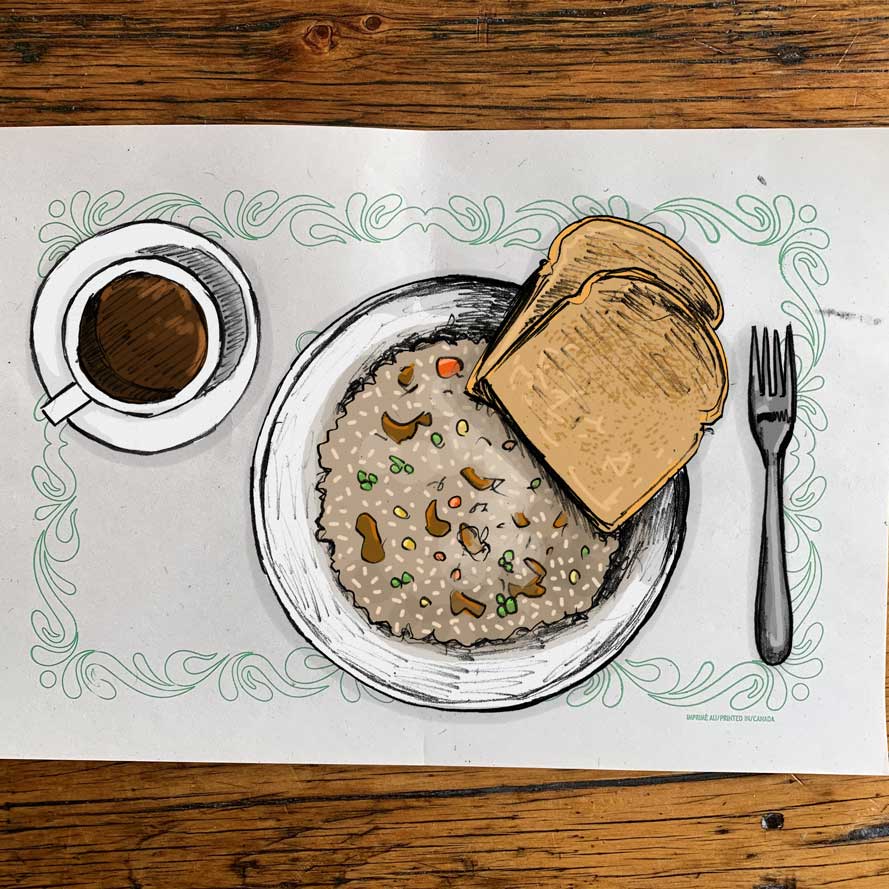 Rouyn fried rice & toast
The improbable duo of this column combines a dish of Cantonese fried rice served with a "side" of toast, which, as usual, is seen de facto associated with an unpretentious breakfast plate of 2 eggs and bacon.
Probably dating from the 1950s and 60s, the practice of accompanying a dish of chicken fried rice with a side of toast is part of the food heritage surrounding the city of Rouyn-Noranda in Quebec. A city in the Abitibi region, which we often ignore was already more cosmopolitan in those years. In fact, in the early 1930s, 1 in 3 residents of Rouyn-Noranda came from an immigrant background. A melting pot where the French-Canadian, Jewish, Russian, Ukrainian, Italian and Chinese communities rubbed shoulders on a daily basis…
It is in this particular socio-demographic context for the era that Mr. Dick Woo will prove to be an outstanding restaurateur of Rouyn-Noranda's history. We note that he sniffed out a good deal when he started the mythical  Dick Woo's radio grill  in the Radio Hotel's basement. A festive hotel renowned for its festive atmosphere and its rock and roll concerts.
But what about the relationship between fried rice and toast?
Open 24 hours, it is said that at dawn, the radio grill was filled with a mixed fauna, which a bit like between dog and wolf, were either early risers who came for breakfast, or night owls who came savor the house specialty: chicken fried rice. By word of mouth it is said the sides of toast served to accompany breakfasts also ended up next to a portion of fried rice. To know that toast had its place beside 2 eggs and bacon as beside chicken fried rice. It is therefore apparently in this human abundance that the custom of eating fried rice with toast has apparently taken shape and then spread in certain family traditions still very present in this corner of the country.